BPI Sports ISO-HD™
The purest, low calorie protein delivering 25 grams of rapidly digesting 100% whey isolates & hydrolysates.
ULTRA FAST ABSORPTION
LEAN MUSCLE GROWTH
RAPID MUSCLE RECOVERY
BPI Sports ISO-HD™
MUSCLE BUILDING
BPI Sports ISO-HD™ Rapidly absorbed, because of its purity, to support your post workout recovery and lean muscle building. *†
RECOVERY
High in calcium and low in sodium for a healthy recovery; BPI Sports ISO-HD™ is unmatched in not only nutritional value, but taste. *†
PERFORMANCE
Consumption of hydrolysate allows amino acids to be absorbed quickly to maximize the nutrients being delivered to your muscle tissue. *†
WEIGHT LOSS
BPI Sports ISO-HD™ Mixes easily and packs more servings per container than most of the competition for maximum strength gains and fat loss. *†
WORKOUT TIPS FOR BPI Sports ISO-HD™
1 – 
Immediately after a workout is an optimal time to take protein for muscle rebuilding and recovery benefits.
2 –
You can mix your protein with skim milk for some additional protein content and health benefits (such as calcium, potassium, magnesium, and other vitamins).
FAQ's
CAN I USE ISO HD™ AS A MEAL REPLACEMENT SHAKE FOR WEIGHT LOSS?
Yes. With its low calorie content, low carbohydrates, low fat, and high protein profile, you can use ISO HD™ as a meal replacement shake when you are looking to shed some extra body fat.
The purest, low calorie protein delivering 25 grams of rapidly digesting 100% whey isolates & hydrolysates for lean muscle growth, muscle health, and recovery.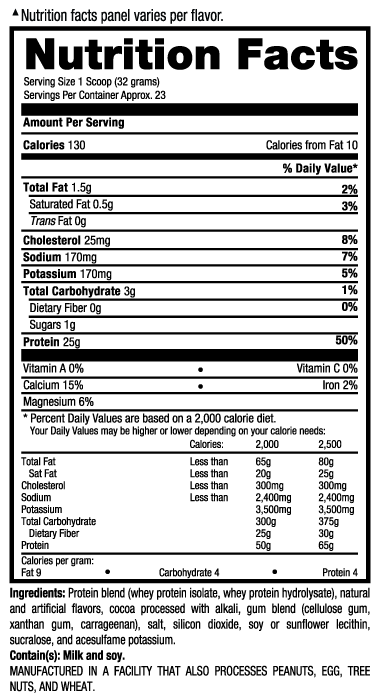 PLEASE NOTE: All SITE VISITORS are advised to consult their physician before beginning any exercise and nutrition program. BPI and the contributors do not accept any responsibility for injury sustained as a result of following the advice or suggestions contained within the content of this SITE.
* These statements have not been evaluated by the Food and Drug Administration. These products are not intended to diagnose, treat, cure or prevent any disease.
† When combined with a proper exercise and nutrition regimen. Statements based on early-stage independent 3rd party in vivo and / or in vitro model scientific research data findings for individual ingredients.
When your order with Nutrition Warehouse Canada all you have to do is enter coupon code FIRSTORDER and you will get 10%OFF*. Once you make you first order you will receive another coupon code for an additional 15%OFF** your second order. * Some Restrictions May Apply *Cannot Be Used With Any Other Offers.
---